On The Jewish Channel, Newt Gingrich characterized the Palestinians as "an invented people". During yesterday's ABC Republican Presidential Debate, he was asked to clarify these remarks.
Former Speaker of the House Newt Gingrich (R-GA):
Is what I said factually correct? Yes. Is it historically true? Yes. We are in a situation where every day rockets are fired into Israel while the United States — the current administration — tries to pressure the Israelis into a peace process….

Somebody ought to have the courage to tell the truth. These people are terrorists, they teach terrorism in their schools…. It's fundamentally the time for somebody to have the guts to say enough lying about the Middle East.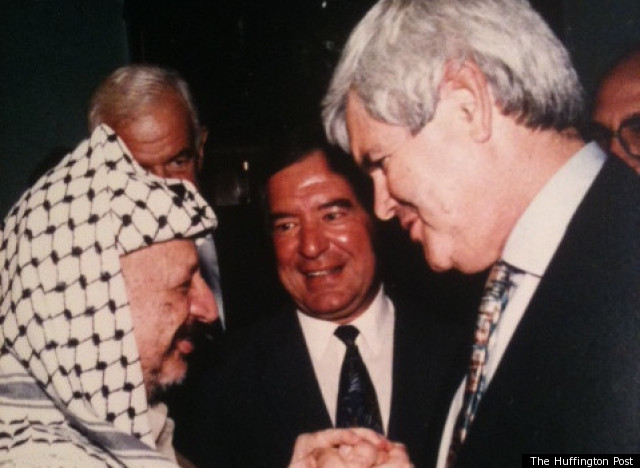 House Minority Whip Newt Gingrich (R-GA) shakes hands with "invented person" Yasser Arafat following the signing of the September 1993 Oslo accords.
Rep. Ron Paul (R-TX):
That's just stirring up trouble.
Gov. Mitt Romney (R-MA):
I happen to agree with most of what the speaker said except by going and saying that the Palestinians are an invented people. That I think was a mistake on the speaker's part…. We're gonna tell the truth, but we're not gonna throw incendiary words into a — a place which is — a boiling pot when our friends the Israelis would probably say, "What in the world are you doin'?"
The Jewish Channel video of Gingrich follows the jump.