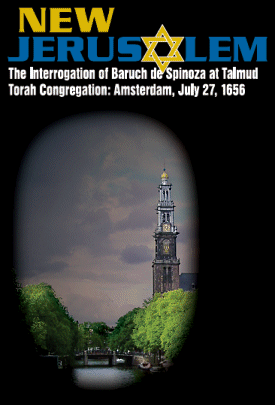 All we get is the poetry of a Jewish fruit peddler and a heap of vanishing figs. — Baruch Spinoza
You will be greater than all of us, but not as a Jew. — Rabbi Mortera

Reminiscent of intellectual dramas like Copenhagen, New Jerusalem: The Interrogation of Baruch de Spinoza at Talmud Torah Congregation: Amsterdam, July 27, 1656 is an ambitious new drama by David Ives, known for his evenings of one act comedies called All in the Timing and Time Flies. Playing through November 6th at the Lantern Theater Company, this heady play directed by Lantern's Artistic Director Charles McMahon is based on true events in the life of the philosopher Baruch de Spinoza. This recent off-Broadway hit challenges traditional political and religious thinking with passion and wit.
The production's action takes place in the Amsterdam synagogue where the 23 year old stands trial for his revolutionary thoughts about God, nature and human life. Sam Henderson's Spinoza, donning a black leather bomber jacket, (costumes beautifully designed by Maggie Baker with lighting by Shon Causer) is arrogant but humble, witty and rakish. The favorite son of the rabbi's heir apparent, (played by David Bardeen) Spinoza refuses to remain silent about his revolutionary thoughts, and is accused by political leader and Calvinist Abraham van Valkenburgh ( played by Seth Reichgott) of heresy. The audience becomes part of this trial as we witness Spinoza refuse to silence his radical beliefs, denying the divine origin of the Torah which sits in the Ark of the Covenant, that provides the effective and sparsely designed backdrop for the action (designed by Nick Embree).
More after the jump.
Accused of atheism, Spinoza protests, "I know a few things about God no one else does." Accused of loving a Christian woman, Clara van den Eden (played beautifully by Mary Tuomanen) Spinoza insists she tell the truth when she is questioned, for her "essence will not allow her to lie." His petty and vengeful half-sister Rebekah de Spinoza, (played by Kittson O'Neill) who early in the play betrays her brother, marks one of the weaker plot points as later in the play she professes great loyalty. Her kvetching (from the audience where she glares at her accused brother on trial to be excommunicated) while intended to provide some comic relief, strikes one of the few false notes of the evening.
The most convincing and moving relationship we witness is that between the Head Rabbi of Amsterdam, Mortera, and Spinoza, whom he considers like a grandson. While Spinoza is intoxicated "by God and mathematics", the rabbi must think about the community of faithful Jews whose religious freedom is being threatened. Will the Rabbi remain faithful to his most gifted student or will he turn his back on him for the sake of the Jewish community's survival?
Ives manages to write an engaging courtroom drama full of complex philosophical ideas from Descartes' dualism to the Mishneh Torah. If questions like: is there immortality, is there a God, what are the moral implications of a world without God, interest you — you will spend two riveting hours at the Lantern Theater Company. Remember, when Albert Einstein was asked about his belief in God, he responded, "I believe in Spinoza's God." To find out what he means by this go see New Jerusalem at the Lantern Theater Company.
On Saturday, October 22nd at 2 pm there will be a Panel Discussion on the Lantern Main Stage called Out of Order! Courtrooms as Theatre, Courtrooms in Theatre featuring Vince Regan, Assistant Chief District Attorney of Philadelphia, Philadelphia playwright Bruce Graham.
New Jerusalem runs through November 6th.
Lantern Theater Company at St. Stephen's Theater
10th and Ludlow Streets, Philadelphia, PA 19107
Adults: $20 – $36, Students: $10 – $26, $10 student rush tickets available 10 minutes before curtain with valid ID; cash only. Special discounts are available for seniors and groups of 10 or more.
Phone: (215) 829-0395