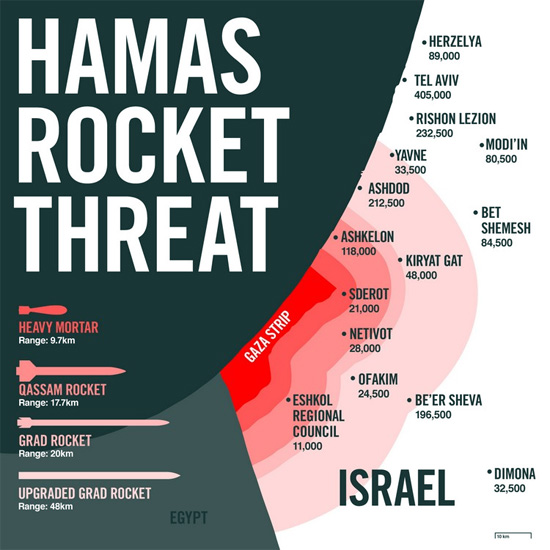 PHILADELPHIA, PA. – In the last week alone, Hamas, a terrorist organization, has launched 150 rockets at Israel's south. Currently, 15% of Israel's population is currently under a terrorist attack.
Israel cannot tolerate the escalation of rocket fire aimed at its citizens.
To impair the terrorist infrastructure, the Israel Defense Forces (IDF) responded with targeted strikes against those responsible.
The Israel Air Force (IAF) seriously impacted Hamas's long-range missile capabilities and underground weapons storage facilities. The IAF has acted restrained and surgical in its response to the Hamas missile escalations, and has not targeted the long-range missiles stored in mosques, schools, and hospitals. Hamas, conversely, is deliberately firing at Israeli civilian population centers, including schools, hospitals and houses of worship.
More after the jump.

Hamas rockets fired at Israeli civilians in the past have had a range of up to 25 miles. Today, the IDF targeted the Fajr-5, which has a range of nearly 40 miles, putting three million Israelis within terrorist missile range. This additional range encompasses the major metropolitan area of Tel Aviv.
As part of Operation Pillar of Defense, Israel eliminated Ahmed al-Jabri, the head of the Hamas military wing, who joined Hamas in 1995 and rose to a senior leadership position in 2004. He was directly involved in numerous terrorist attacks against Israel, including the kidnapping of Gilad Shalit.
"We are sending an unequivocal message that our citizens will not be hostage to terrorist missile fire and cross-border attacks," Ambassador Michael Oren said. "The scope of the IDF's defensive operation depends on Hamas and whether it takes the decision to cease firing missiles on our neighborhoods and homes. Israel has the right and duty to defend itself from terrorist attacks designed to kill thousands of its citizens."
Consul General to the Mid-Atlantic Region in Philadelphia, Mr. Yaron Sideman commented, "We are not acting in a vacuum. In the past 24 hours, Israel has endured 120 missiles fired indiscriminately at our nation. In the past year, over 800 missiles were fired. In 2009, over 2500 missiles were fired at our citizens. Israel showed much restraint to numerous attacks. "