U.S. Unemployment Rate, 25 years and over:
July 2013 data:
| | |
| --- | --- |
| Less than a high school diploma | 11.0% |
| High school graduate, no college | 7.6% |
| Some college or associate degree | 6.0% |
| Bachelor's degree and higher | 3.8% |
Source: Federal Reserve Bank of St. Louis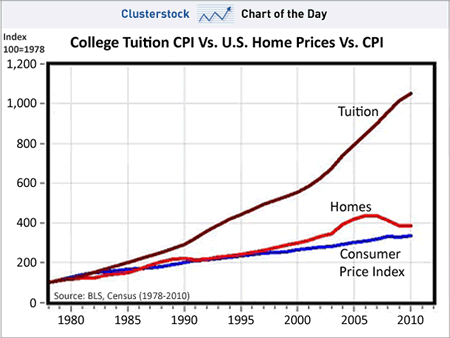 It is becoming increasingly difficult to get a job which pays a decent salary without a college education. Nevertheless, the cost of a college education is increasing exponentially, far outstripping inflation and typical salaries.
About one-third of college students receive subsidized Federal loans. The rate on these loans was fixed in 2007 at 3.4%. Last month, Congress let this rate expire, which caused the rate on new student loans to suddenly double to 6.8%, bringing a college education out of the reach of most students.
A life of privilege should not be the birthright of the privileged few, passed on from generation to generation like the titles of nobility, which we Americans have wisely forsaken (U.S. Constitution, Article I, Section 9, Clause 8).
The outrage expressed by students, their parents, and all those concerned with the future of America's highly educated workforce was heard in the halls of Congress. Last Friday, President Obama signed a compromise bill to lower interest rates. According to Cecilia Munoz, "Under the new law, nearly 11 million borrowers will see their interest rates decrease on new loans made after July 1, 2013. About 8.8 million undergraduate borrowers will see their rates on new loans drop from 6.80% to 3.86%, and about 1.5 million Graduate Unsubsidized Stafford borrowers will see their rates drop on new loans from 6.80% to 5.41%. Finally, over 1 million Grad PLUS and Parent PLUS borrowers will see their rates on new loans drop from 7.90% to 6.41% — the first reduction in years." (Since these rates are based on the bond market, The Washington Post notes that "as the economy improves in the coming years, as it is expected to, those interest rates will likely climb and could soon be higher than current rates, unless Congress again acts.")
Undergraduates may be breathing a sigh of relief as they prepare to go back to school this fall, but still their education will end up more expensive than ever, before putting college out of reach of more and more of America's youth.
Will this satisfy the many voices that have been clamoring for the government to make education more affordable?
Yet, others are advancing toward a more ambitious objective: making higher education not just affordable, but free.
Three ideas for free tuition follow the jump.
Pay it forward, pay it back
Pennsylvania State Senator Daylin Leach (D-Montgomery) writes about the legislation he and State Representative Brendan F. Boyle (D-Philadelphia/Montgomery) are introducing in Harrisburg:
I will be introducing a landmark bill in the Pennsylvania Senate to make college affordable for every Pennsylvanian.

Growing up, my mom and I didn't have much, and it was only because of programs like Pell Grants that I was able to go to Temple University for college. Since I graduated, tuition has risen astronomically, and state and federal financial assistance hasn't been able to keep up. If I was finishing high school today, I would not be able to afford to go to Temple without taking on a mountain of debt.

That is why I will be introducing the "Pay It Forward, Pay It Back" program to make state, and state-related universities (like Temple) affordable for every student by letting them attend college with no money down and without paying high interest rates.

The way that it works is simple: we will create a fund from which students can draw funds to pay their tuition. After graduating and joining the workforce, students will "Pay Back" into the fund, interest free, through a small percentage — around 4% — of their income.

The plan will eventually become self-sustaining, but until it does, we will use seed funding from a competitive, temporary tax on natural gas extraction.

Once this bill is signed into law, Pennsylvania will be one of the the nation's leaders in affordable college education and every student will have the same opportunities that I did.
Boyle adds:
With Pennsylvania's college graduates shouldering the second highest level of student loan debt in the country, the need to take a hard look at our existing system of funding higher education is urgent. This legislation would initiate the process of conducting a comprehensive, in-depth analysis of the Pay It Forward model.
There are currently a handful of states that are considering or have passed similar legislation, including Oregon, which last month passed legislation that Boyle credits as the impetus behind their proposal:
I think the number of states that have expressed interest in this model demonstrates that the traditional way of financing public higher education is fundamentally broken and that there is a strong demand for new ideas. The Oregon bill offers an excellent template for how such a game changing proposal should be approached. Given that this plan would likely require an investment of tens of billions of dollars before becoming solvent, carefully examining the merits and cost of Pay It Forward on an objective and nonpartisan basis will provide insight into whether such a program is feasible in Pennsylvania.
A similar idea is being considered in California, where grantees would commit to paying 5% of their salary for the next 20 years.
This idea is not a Utopian, liberal, "pay what you can" dream. According to the journal Inside Higher Ed, the "concept was thought up, independently, by two Nobel winners in economics, Milton Friedman [noted Libertarian thinker] and James Tobin."
Posse Scholars
Many promising students do not fulfill their potential, because they do not have the necessary support networks to guide them in their education. For that reason, the Posse Foundation steps into the breech and identifies at-risk youth "with extraordinary academic and leadership potential" while they are still in high school, organizing them into teams (or "posses") of ten students.
The students in any posse are responsible for each other, support each other in their studies, and help each other stay out of trouble. The Posse Foundation's university partners have committed to giving full scholarships each year to an entire posse, based on the posse's total scores, grades, etc.
Knowing that they will earn this scholarship, or fail to do so, as a group, each posse is a team with a common goal to shoot for, and the raw talent to succeed. Since 1989, 4,884 public school student have succeeded as posse scholars. The posse continues to function when in the university of their choice and even beyond, as an invaluable, tried-and-tested support network for these talented youth, who may be the first children in their families to benefit from higher education.
President Obama has seen the value of the Posse Foundation's work, and accordingly donated all of his $1,400,000 in Nobel Peace Prize money to the Posse Foundation, and 10 other charitable causes:
The news that Posse will receive a generous gift of $125,000 came via a White House announcement.

"These organizations do extraordinary work in the United States and abroad helping students, veterans and countless others in need," said President Obama. "I'm proud to support their work."

The other nine organizations who will receive donations ranging from $100,000 to $250,000 are: AfriCare, the American Indian College Fund, the Appalachian Leadership and Education Foundation, the Central Asia Institute, the Clinton-Bush Haiti Fund, College Summit, Fisher House, the Hispanic Scholarship Fund and the United Negro College Fund.

"On behalf of the entire Posse Foundation, I thank President Obama for this incredible acknowledgment and support", says Posse President and Founder Deborah Bial. "For 20 years, Posse has been finding outstanding young people and connecting them to the great education they so deserve. The president's support is more than financial; it is a message to the country that these young people are not only important, but needed as leaders. We are beyond thrilled."
Loan Forgiveness
Another way students attend school for free is by committing to public service. Instead of giving back a small percentage of their salary for decades, they devote themselves to service for a shorter period of time. For example, the United States Armed Services will pay for students to attend medical school, if they agree to serve as a medic in the military for an equal number of years. Each year of free medical school equals one year of required service:
When you're pursuing an advanced health care degree, the last thing on your mind should be how you're going to pay for it. The U.S. Army can help with one of the most comprehensive scholarships available in the health care field — The F. Edward Hébert Armed Forces Health Professions Scholarship Program. Qualifying students receive full tuition for any accredited medical, dental, veterinary, psychology or optometry program, plus a generous monthly stipend of more than $2,000.
In fact, during summer break, the students receive officer's salary while they get their military training.
Similar programs exist to encourage doctors to work for a few years in under-served rural communities, or for student to train (or engineers to retrain themselves) to teach science, technology, engineering or mathematics in poor urban neighborhoods.
These ideas may put higher education into everyone's reach, and conversely, put everyone's talents into the reach of society.