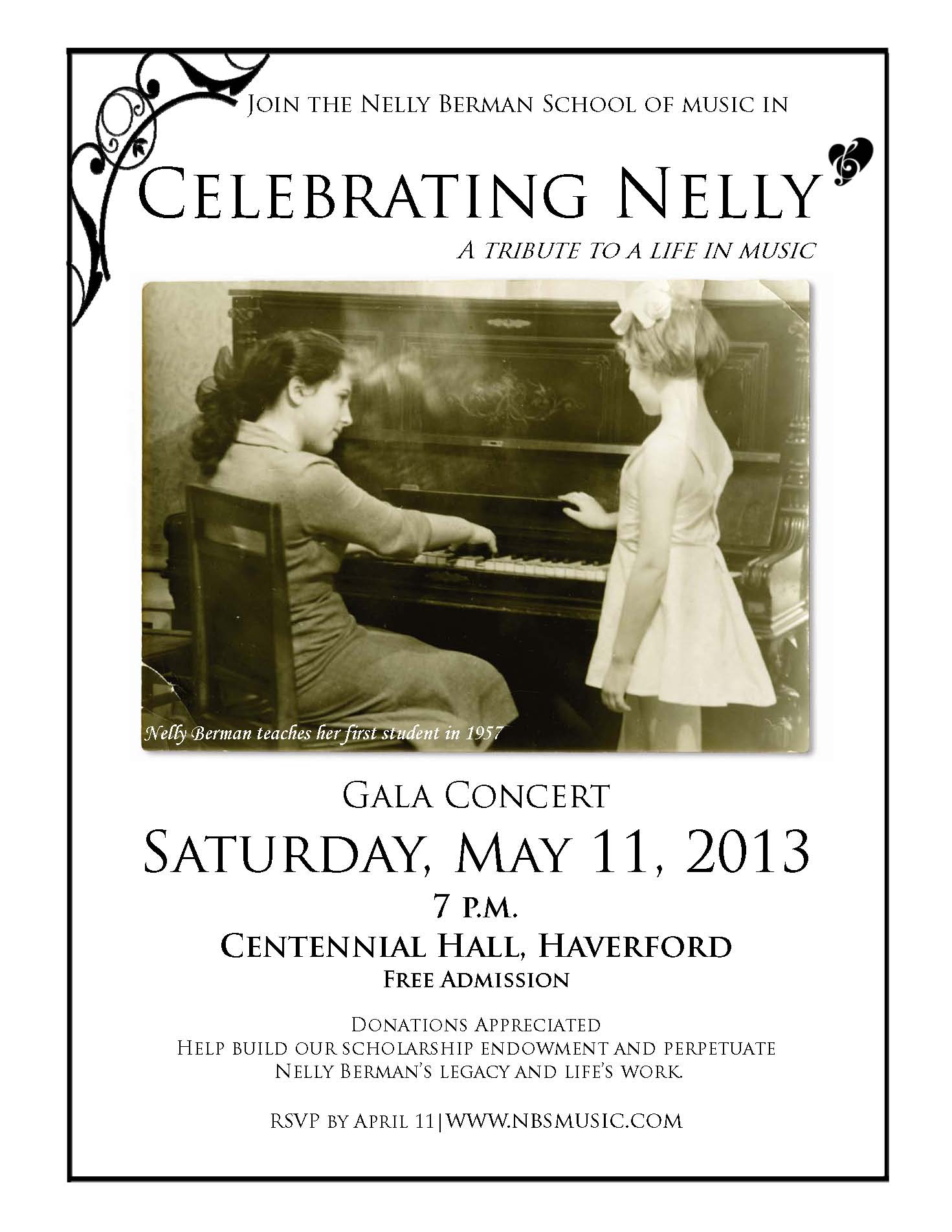 — by Elena Berman
Recently, I was sitting crossed-legged on the floor of my mother's house, digging in her old green cardboard suitcase full of photographs and thank you cards. I poured over the black and white photographs from Odessa, depicting our family and close friends. There were also many pictures in color, of my mother surrounded by her former piano students, whom she taught over the years of her life in Philadelphia, which were proudly taken after numerous concerts my mother had presented. There were pictures of my mother's students, and even her students acting in a musical play that she had directed based on the lives of Clara and Robert Schumann, Franz Liszt and Felix Mendelssohn. Strewn among the photographs were dozens of cards from the parents of my mother's students, with words of gratitude for changing their children's lives through her teaching. With deep sincerity they thanked her for bringing forth their kids' potential and talent in music. They described her as being not only a teacher, but a great mentor and role model.
More after the jump.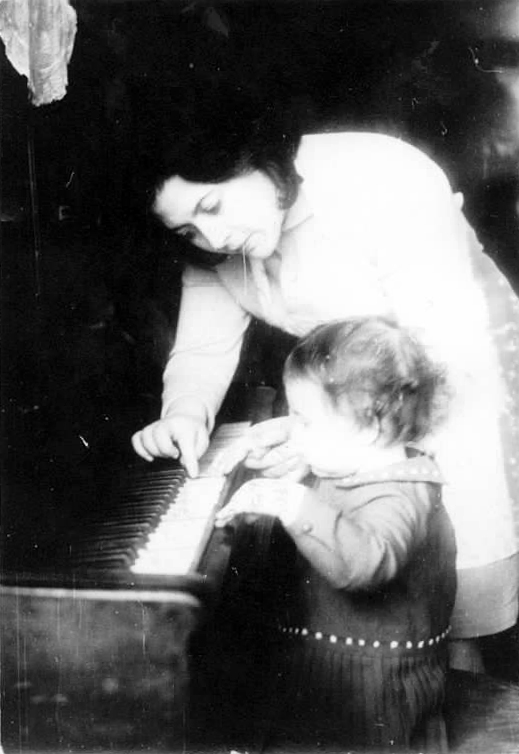 Nelly Berman teaches two-year old Elena
We came to the U.S. 37 years ago with 3 suitcases. One contained precious photographs and indispensible music scores. Included was the Grieg concerto that I was working on, Chopin concerto I was hoping to learn, Rachmaninov Preludes that my mother loved to play, as well as a number of anthologies that my mother was hoping to use for her future American piano students. The other suitcases held all of the clothes and mementos that we could bring out of Russia. In them, we also packed wooden cups and saucers, colorfully painted with gold and red flowers, and little black boxes, with miniature scenes from Russian fairy tales, painted with great skill. These trinkets were meant as souvenirs for our future American friends. Those two other suitcases were thrown out long ago, souvenirs given out, clothes discarded, but only this green suitcase, full of pictures of our former life in Odessa, and new life in the USA, was left as a keepsake.
I came upon an old picture of me, not more than two years old, an age completely erased from my memory. I am holding my hands carefully placed over the keyboard of our old Bechstein upright piano we had in our apartment in Odessa. My young mother Nelly is standing over me, showing me how to touch the keys properly. Excited to see this picture, I had it scanned at the NBS school office and emailed it to my mother. "Look at your hand position," she exclaimed proudly, glancing at the picture. "Most little kids' fingers stick out in all directions, and they bang on the piano with such force. On this picture you already have a perfect round shape of your hands, with your wrists high and your fingers beautifully round. And you are focusing carefully on what I am teaching you."
That is my mother Nelly, in that statement, always conscious of what is important in teaching music to students. In Odessa, she had been teaching piano hour upon hour, in a music school in our district, called "Music school No. 1". There, she had to follow a specific, mandated plan for assigning pieces to her students, based on the Ministry of Culture's graded programs for all music students in the Soviet Union. My mother would constantly rebel and assign the music that she felt would open the minds of her piano students. She would be reprimanded for it again and again. Music education was free – one of the special perks the Soviet Government allowed their citizens. Students, starting from the age of 7, had two lessons per week in their instrument. If not pianists, they were required to study piano as a secondary instrument. They also had weekly classes in theory, solfeggio, music literature, choir, and chamber groups for advanced students. All students had to pass an examination twice a year to continue their music education.
My mother was famous as a teacher in Odessa, her students not only won competitions but they adored her. I leaf through our old Russian music books that my mother still has. They are piled up on the Steinway in her house, a beautiful instrument she purchased in the USA. I see my mother's writing in English on different pieces in the books – this Mozart Concerto was meant for Kyle Cesar Luo, the Debussy "Claire de Lune" was meant for Allison Klayman, the Beethoven sonata was for Ellen Morris, the Mozart Fantasy was assigned to Felix Zhang, the Prokofiev Vision Fugitives was intended for Daniel Schlosberg, the Chopin E minor concerto was intended for Nandira. Those students' names bring memories of the years when I would sit at her lessons trying to pick up on all her skills of being able to inspire her students, achieving beautiful phrasing and dazzling technique.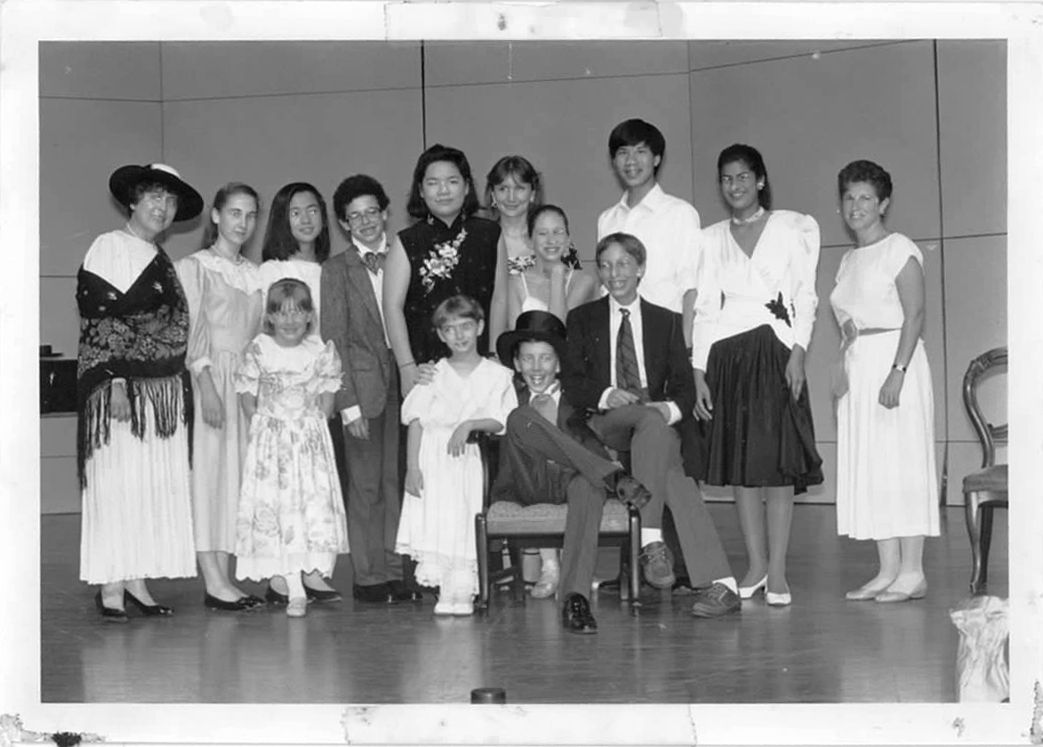 Nelly, left, with NBS students, circa 1985.
I remember these children's wonderful music making and their dedication and excitement about playing their instrument. Kyle has played with the Philadelphia Orchestra as a soloist not once but twice, and while attending Medical school, he played a Rachmaninov Concerto with the Rochester Philharmonic. He has become an eye surgeon like his father. Allison Klayman spent 5 years in China, learned Mandarin, and recently received a prize at Sundance Festival for her full length documentary called "Ai WeiWei: Never Sorry" which was screened at the Ritz and Bryn Mawr movie theaters this summer. Ellen Morris studied Physics at the University of Chicago and minored in piano performance, and then reversed the order. Felix Zhang was named one of the top twenty All American High school students in 2007 by USA Today, played a Tchaikovsky Concerto and is now graduated from Harvard, having done research on Alzheimer's disease. Daniel Schlosberg is working on his Master's Degree in Composition at Yale University, has written an opera for the Yale Opera company, and is working at this moment with a famous Broadway musical theater composer, orchestrating his scores. And then, I found a picture in the suitcase of my mother hugging her two new little students, Nina Hartling and Nicolas Lu, whom she started to teach last year, after her stroke. There are so many others whose names I have forgotten, and whose path in life would love to discover!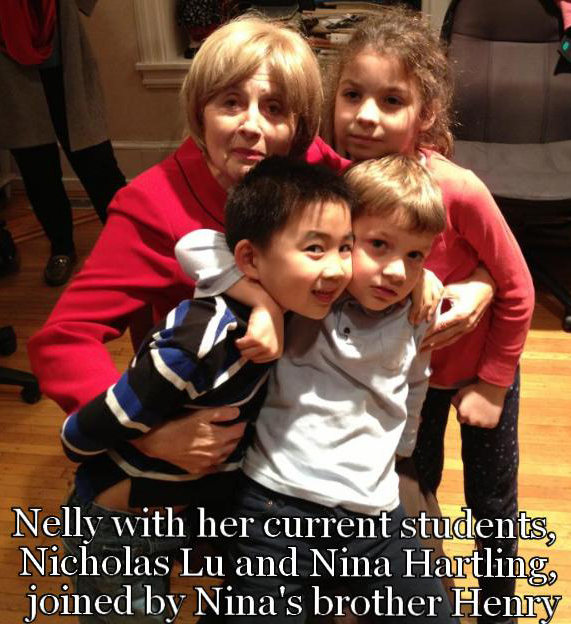 In the Soviet Union, it was realized that students required at least2 lessons per week plus other instructional classes in order to become musically proficient, and this support was provided by the State. The U.S. does not support music in this way. It is left for parents to make their own decision to provide such financial support for these extra lessons. In many cases they cannot do it, and very talented students cannot realize their musical desires. The NBS Classical Music Institute was thus established in 1996, because the level of support needed to satisfy all of the worthy students that we had by then attracted, was not sufficient. It was then that the generosity and devotion to the advancement of classical music education came to us from Elaine Kligerman. She was willing to satisfy this need, and so the Scholarship Fund was developed. Because of her generous support, just about every student who is worthy and desirous of having the additional lessons per week can have them. Mrs. Kligerman herself is an established pianist, having attended both the Juilliard School and the Manhattan School of Music. With her great knowledge of music and education, including 15 years of serving as adjunct piano faculty at Temple University, she recognized the importance of supporting these talented children. As a result, the school has grown significantly in reputation, with its fame spread throughout the Philadelphia area as well as to New York and even to communities in California. Without Elaine Kligerman this would not be possible. I thank her from the bottom of my heart.
Over the years, my mother brought truly outstanding teachers to the school, who shared her vision of the value and tradition of music education and love of teaching. Together they raised the bar for what each child could accomplish, giving them the tools to realize their fullest potential, inspiring them and nurturing their self confidence.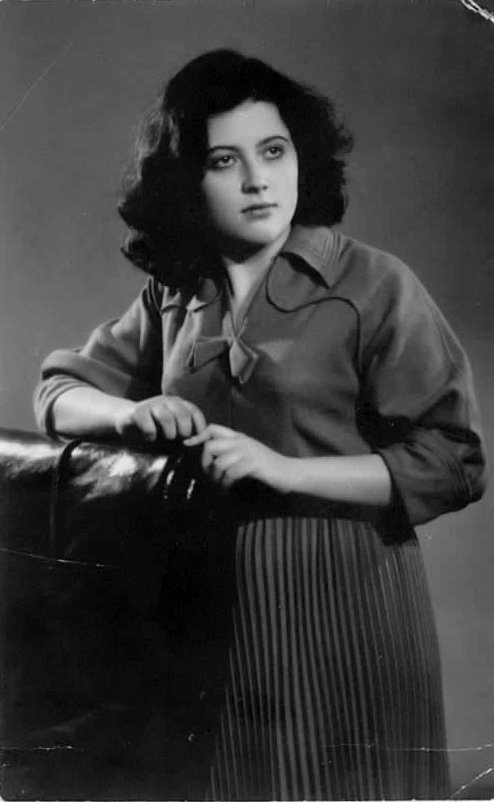 Nelly at 19 years old
I found another letter in her old green suitcase that she wrote 10 years ago:
"What is a 19-year-old girl teaching her first piano student in Odessa dreaming about? Her wish was not a big house, a big car and diamonds. Her wish was the same as I have now – to give every child that is gifted in music the best teaching possible. For all 45 years of my teaching life I awake in the morning and review in my mind what students had achieved the day before. The words in a song from my favorite Cary Grant movie say: 'Close your eyes, make your wish, and make your life.' It seems that Providence has enabled me to help talented music teachers from different countries find a home in my school and to be creative enough to bring about this unique school. I would like to thank you all for coming and making my dreams come true."
Join me in celebrating Nelly Berman's gift of music to so many young people.
With much love and admiration,
Elena
Links