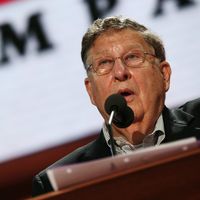 — by David Streeter
Earlier in the campaign, it was pointed out that Republican presidential candidate Mitt Romney had struck an alliance with Israel-challenged former Governor and White House Chief of Staff John Sununu. This week at the Republican National Convention, Sununu was one of the people who officially nominated him for the GOP's presidential ticket, per Romney's request.
Some highlight of Sununu's record, some highlights follow the jump.
Perhaps forging political alliances with Israel-challenged Republicans — like Representative Ron Paul (R-TX) — was what Romney meant by his pledge to "do the opposite" on Israel?