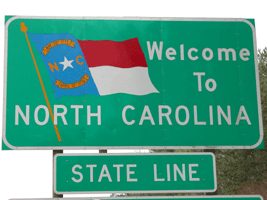 DocJess is on her way to the Democratic National Convention. She will be covering it for DemConWatch, the Philadelphia Jewish Voice and West Chester's Daily Local. Here is her first report…
— by DocJess
It was over 500 miles and 8 hours, but a reasonably uneventful trip. Crossing the border from Virginia to North Carolina, my nimble fingers managed to get James Taylor's Carolina on my mind into the CD player at just the exact moment.
Mostly though, it was about presidents. A shout out to Dwight Eisenhower, whose dimsay at the state of American roads during WW2 made sure that I, and everyone else, can travel across the country, up and down the states, or around in circles on a giant interconnected Interstate highway system. Most of my trip was on 81, which intertwined with Route 11, that it replaced. No 81? The trip would have taken more than double the time. There was very little construction on 81 compared to the amount that obviously needed doing. Thanks GOP House, she said with dripping sarcasm, for an under-authorized Highway Bill. Ike, I'm sure, is turning in his grave that his party will not even fund the filling of a single pot hole.
And then there's Lincoln. My travels took me near Gettsburg, Antietam, Harpers Ferry and big billboards advertising what "plantations used to be" – how different an America before the Civil War.
There was the Chesapeake Bay Watershed, "A National Treasure" according to the signs. I wonder what Teddy Roosevelt would think about how we are now managing what is left of our environment, our national parks, and our ecosystem.
Finally, the was FDR. As I made my way through the Appalachians, I couldn't help thinking about the Great Depression, and how a combination of smarts and dollars not only put people back to work, but also brought electricity, indoor plumbing, and other infrastructure throughout so much of America, including those Appalachians.
Yes, kids, that is what I think about alone in a car for an extended period. It did fire me up for everything this week – that sense of looking at history to move forward. As opposed, of course, to the GOP which looks at history and yells "take me back"….
On my agenda today: pick up my media credential and parking pass, attend the morning press conference, and then on to Carolinafest. I hope to have pictures up all day on the Twitter feed.