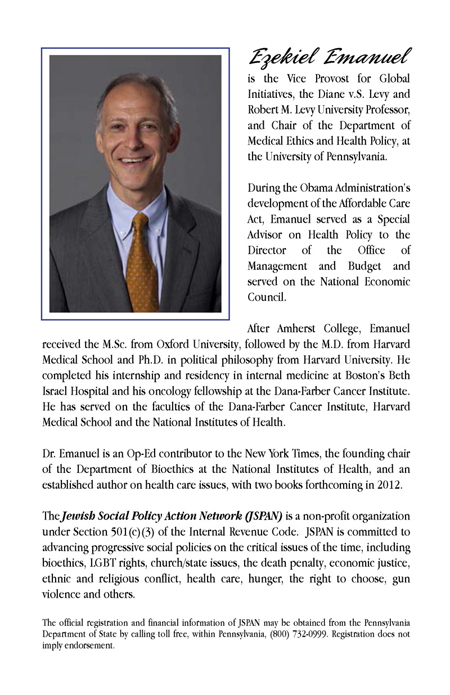 Don't miss your opportunity to hear a White House insider's view of the future of American healthcare. A top healthcare insider is coming to The Pyramid Club on June 6 to address JSPAN and you can be there.
Who: Dr. Ezekiel Emanuel, ex-White House advisor on healthcare (also brother of the Mayor of Chicago), will speak on the future of healthcare reform and American medicine.
Emanuel, Chair of the Department of Medical Ethics and Health Policy at the University of Pennsylvania, is well known on the Op-Ed page of the New York Times and in the media. He headed healthcare at the White House Office of Management and Budget in 2009-10, during the design and Congressional passage of the Affordable Care Act.
When: The event is at 7:30 pm on Wednesday June 6.
Where: The Pyramid Club, 1735 Market Street, Philadelphia. With a great dessert buffet, the cost is $10 (free to JSPAN members with 2012 dues paid). Discount parking is available.
RSVP Required: [email protected] or phone 215-635-2554.