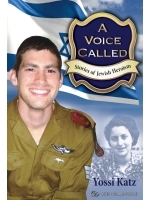 Editor's Note: On the eve of Yom Ha'atzmaut — Israel Independence Day — Jews throughout the world mark Yom Hazikaron — Israel's Memorial Day — to remember the soldiers who gave their lives. Israel needed heroes like these to win its independence and facing existential threats around it, Israel continues to need heroes like these to safeguard its independence.
I just read A Voice Called: Stories of Jewish Heroism by Yossi Katz. I heartily recommend this collection of articles about some of the great Jewish heroes of modern times. The stories are written to shed light on Jewish history and to inspire the reader to live in the present with pride and dignity and to help build a better future.
The Philadelphia Jewish Community can be proud to count among its ranks one of these heros: Michael Levin. We thank Yossi Katz and Gefen Publishing for permission to reprint his story. (All rights reserved by Gefen Publishing.)

Michael Levin: Acharai!
Born in Philadelphia 1984 — Made Aliyah to Israel in 2003
Joined Israeli Paratroops, fulfilling a personal dream
Rushed back to Israel to rejoin fellow soldiers in battle when Israel attacked
Fell in battle against Hizbullah terrorists on August 1, 2006
"You can't fulfill your dreams unless you dare risk it all"
— by Yossi Katz
Michael Levin grew up like most American-Jewish kids. Born on February 17, 1984 and raised in Philadelphia, he graduated from Council Rock High School in 2002. Michael's maternal grandparents were survivors of the Holocaust and passed on to him a legacy of pride and strength in his Jewish heritage. As a teenager Michael was active in the HaGesher Region of United Synagogue Youth (USY) and attended Camp Ramah in the Poconos. He loved sports and was an avid fan of Philly teams especially the Philadelphia Phillies.
In February 2001, Michael came to Israel for two months to study the 4000-year history of the Jewish people at the Alexander Muss High School in Israel (AMHSI). While in Israel Michael expressed his desire to make Aliyah (move to Israel and become an Israeli citizen) and serve in ZAHAL-the Israel Defense Forces. Michael proved to be an outstanding student at AMHSI and was especially moved by the stories of Jewish heroes like Judah the Maccabee, Shimon Bar Kochba, Rabbi Akiba, Hannah Senesh, Eli Cohen, Avigdor Kahalani and Yonaton "Yoni" Netanyahu. The most moving moment at AMHSI for Michael was on the last day of the program when his class visited the grave of Yoni Netanyahu, hero of the 1976 Entebbe rescue mission, at Mt. Herzl in Jerusalem. Michael looked up to Yoni as a role model and a hero and was touched by Yoni's words from a 1975 letter:
By 'past' I mean not only my own past, but the way in which I see myself as an inseparable part, a link in the chain of our existence and Israel's independence.
Like Yoni, Michael also saw himself as a link in the chain of Jewish history and felt an obligation to defend his people and dreamed of serving in the Israel Defense Forces.
After graduating high school, Michael attended "Nativ" — USY's Year Course in Israel and in his "Nativ" yearbook wrote the words that would become his motto:
"You can't fulfill your dreams unless you dare risk it all"
Michael was neither a daredevil, nor a gambling man. He was a sweet, funny, humble, kind, loving human being who loved life and lived it to the fullest. He simply believed that life wasn't worth living unless there was some ideal
you loved so much that you'd be willing to sacrifice your life for it. For Michael — that ideal was Israel.
In 2003 Michael made Aliyah to Israel and began studying Hebrew at an Ulpan (intensive course in speaking Hebrew) on Kibbutz Yavne. Like all Israelis, Michael was drafted into the Israel Defense Forces (IDF) and reported to the Army Induction Center at Tel Hashomer. As he was being processed, the officer in charge noticed his papers had not been finalized due to his new status in the country. The officer told him that he couldn't ben drafted at this time. Undeterred, Michael went outside the Army Induction Center and climbed up a trash dumpster and snuck into the 2nd floor of the building. When the officer discovered him, he hollered at Michael and said, "No one can get thru the front door here without papers" to which Michael smiled and replied, "What makes you think I came thru the front door?!!" The officer pulled some strings and arranged for Michael to be processed as an Israeli soldier. He later remarked, "I've been here at the army induction center for 20 years and some kids don't want to be here and look for ways to get out but Michael was the first kid I ever met who 'broke in' to be inducted into ZAHAL!"
Once in ZAHAL, Michael volunteered for the IDF's finest combat unit, the red-bereted Paratroops. During his basic training Michael learned to parachute. Small in size, 5'6″ and weighing only 118 lbs, Michael was blown off course on his first jump. Afterwards his officers had to tie weights to his parachute to keep him from drifting. Despite his small size, Mike was a fierce fighter with a lion's heart. At the end of their basic training the Paratroops go on a 90-kilometer march to Jerusalem where they receive their red berets at Ammunition Hill, a famous battle site from the 1967 Six Day War. In 2001, while at AMHSI, Michael had learned about the heroism of the Paratroops in
that battle from one of the surviving veterans who spoke to his class. Now he was receiving his red beret on that hallowed ground. Michael described that day as one of the happiest in his life!
Mike was not only a brave soldier but he remained a loving son and brother. He once said, "I'm not worried about dying! I'm just worried about what
it would do to my family." Michael held a special status in ZAHAL called Chayal Boded, given to lone Israeli soldiers whose parents do not live in the
country. Military service is tough enough for most young Israelis but they are comforted knowing they will come home on their Shabbat leaves to a warm and loving family. Michael had none in Israel, making his service that much tougher.
In June 2006, Mike received a 30-day leave from the IDF to visit his family back in Philadelphia. Michael, who had a great sense of humor, wanted
to surprise his mom and dad and worked out a cute prank with his older sister, Elisa. When he arrived in Philadelphia that summer he had Elisa put a gigantic cardboard box with real Fed-Ex markings on the front steps of their home. Michael got into the box and had his sister tape it up and ring his parents' doorbell. When Mrs. Levin saw the package, she tried to carry it into the house, but it was too heavy. Suddenly Michael jumped out of the box and screamed, "Surprise!!" This story is indicative of Michael's loving heart and playful spirit.
Michael spent quality time with his family and visited friends at Camp Ramah in the Poconos. When some friends expressed their worries to Michael about his safety in an elite combat unit of the Israeli army, he responded philosophically, "I'm doing exactly what I want to do and going exactly where I want to be, and if God should decide to call me home, I'm fine with that." During his visit to Philadelphia, Michael told his parents that if anything ever happened to him, he wanted to be buried on Mount Herzl in Jerusalem. On July 12, 2006 the Lebanese terrorist organization, Hizbullah attacked Israel and kidnapped two Israeli soldiers — Ehud Goldwasser and Eldad Regev. The Hizbullah, dedicated to Israel's destruction and armed by Iran, began shelling Israel's northern cities. Michael heard that his unit was sent into battle and he promptly told his family that he had to cut his visit short to rejoin his comrades at arms. He rushed back to Israel and rejoined his unit — the 890th battalion of the Israeli Paratroops, then fighting inside Lebanon. Michael's unit was on a mission in the Lebanese village of Ayta al Shab, a Hizbullah stronghold, when they came under heavy missile — gunfire. Held up in a house, Michael fought bravely but on August 1, 2006 he was tragically killed by a Hizbullah sniper. His fellow soldier and friend, Shlomi Singer,
described Michael's last moments:
I heard a round of gunfire and saw Michael lying on his stomach. I knew in my heart he was dead. I lifted him to one of the houses where I tried to revive him, but there was no chance. I said quietly in English, "I love you Michael and I am so sorry." He was wearing a big green kippah and before we went into Lebanon, I put his kippah on my head and said the Shema… praying that we all come back safely. After Michael was killed we placed his body on a stretcher and carried him for several kilometers between the cliffs and rocks to bring his body to safety. It was the final honor and respect that we could give him.
Michael's family was notified in Philadelphia of his death in battle and they immediately flew to Israel for his funeral. One of their biggest worries was if they'd be able to find a minyan (a quorum of 10 necessary for communal
prayer) for the ceremony, as they had no family in the country. They arrived at Ben Gurion Airport on August 3, 2006 and drove right from the airport to the National Military Cemetery on Mount Herzl. When the car arrived at the cemetery, the Levins saw thousands of people gathered there. Michael's father was confused by the large crowd and thought there were 10 or 15 other funerals taking place at the same time. The soldiers escorting the family told them that Michael's was the only funeral being held at this time and all the thousands of people in attendance, most of whom who had not known Michael, were there to honor their fallen son. Immersed in their shock and grief but embraced by a loving and grateful nation, the Levins buried their son on the hills of Jerusalem, the city he loved with all his heart… just a few yards from the grave of his hero — Yoni Netanyahu.
Michael's mother, Harriet, at first had wanted her fallen son buried near her home in Philadelphia but her Rabbi convinced her that it was Michael's last wish to be buried in the land he loved. She said that when she and her husband, Mark, saw all the people who had come to honor Michael; they knew they had made the right decision.
Harriet said that about a month after the funeral, a friend of hers from Philadelphia went to visit Michael's grave on Mount Herzl. When the friend reached the burial site, she was shocked to see there was an Israeli soldier sitting on the grave drinking a cup of coffee with a small gas burner and finjan (coffee pot) next to him. Thinking he was acting improperly in the cemetery, the woman asked him what he was doing there. The young warrior answered softly, "Michael was my best friend in the army and every Friday afternoon just before Shabbat, we'd sit down and drink a cup of coffee together and shmooze about life. Now, just like before, I come visit Michael every week just before Shabbat and drink a cup a coffee and chat with my best friend."
Harriet Levin said that if Michael had been buried in Philadelphia, probably only a handful of family would visit his grave but at rest at home in Israel, hundreds come every week to pay their respects to the young hero from Philly with the contagious smile and the heart of a lion.
Michael was buried on the afternoon of Tisha b'Av on August 3, 2006. Tisha b'Av is a fast day where we commemorate the many tragedies that have befallen our people on this black date in our history: the destruction of the First and Second Temples in Jerusalem, the fall of Betar during the Bar Kochba revolt, the expulsion of the Jews of Spain in 1492 and the transportation of over 300,000 of Warsaw's Jews to the gas chambers in Treblinka in July 1942. As a sign of mourning we do not wear Tefillin during the morning service on Tisha b'Av but we do put on Tefillin during the afternoon service that day as a sign that life must continue and we must move on from destruction and mourning to comfort and rebirth. It is fitting that Michael was buried on the afternoon of Tisha b'Av and not in the morning. His death was a tragedy that tore into the hearts and souls of all who loved him but Michael's legacy to us is one of hope and commitment. As he smiles down on us from above, his memory will best be honored not by remembering so much how he died but more importantly how he lived. The motto of the Israeli Paratroops is "Achari!" ("Follow Me!") Michael set a dugma isheet — a personal example of how to live a life as a committed Jew with passion and pride dedicated to the Jewish People, to the Torah and to Israel. His legacy commands us all — "Achari!"
Postscript: Michael Levin's mother, Harriet Levin, once told this author that Michael was a normal American-Jewish kid. She said he was just like you and me and added," You know he wasn't always an angel… at times he made mistakes and could get into trouble." In many ways though, that makes Michael even more inspiring. He wasn't a "Superhero"! He was just the kid from down the block, but when his people and Israel needed him- he was there!
A moving documentary film by Sally Mitlas has been made about Michael Levin called A Hero in Heaven. For more information on the film go to www.aheroinheaven.com/.