— by Max Samis
As Congress debates the reauthorization of the Violence Against Women Act — which has been passed and reauthorized with bipartisan support several times since it's inception in 1994 — prominent Democrats marked April 17 as "Equal Pay Day," recognizing the importance of continuing to fight for gender equality in the workplace. Several leading Democrats issued statements and penned op-eds in order to raise awareness of the issue, as well as the larger fight for women's rights.
Democratic National Committee Chair Representative Debbie Wasserman Schultz (D-FL) said:
President Obama and Democrats understand that equal pay is so important for women and their families that one of the first pieces of legislation Democrats passed in 2009 and the first bill the President signed into law was the Lilly Ledbetter Fair Pay Act. The Lilly Ledbetter Fair Pay Act ensures that women can fight for equal pay for equal work, and on National Equal Pay Day we celebrate our continued fight for economic equality, regardless of gender.

The President's commitment to women is in stark contrast to Mitt Romney and the GOP's attitude toward equal pay for women. While Democrats and the President were making equal pay for equal work a priority, nearly every Republican in the House and Senate voted against the Lilly Ledbetter Fair Pay Act; Wisconsin Governor Scott Walker, who Mitt Romney has called a 'hero,' recently repealed that state's fair pay law; and Mitt Romney refuses to say if he would have signed Lilly Ledbetter had he been president at the time. His campaign on a conference call last week couldn't even articulate a response when asked his position on the law….

On Equal Pay Day women can rest assured that Democrats and President Obama will continue the fight for equal pay for equal work and will fight for their right to make health care choices for themselves and their families. It's a shame that Mitt Romney and Republicans can't say the same thing.
House Democratic Leader Nancy Pelosi (D-CA) — the first female speaker in American history — also said:
I'm proud of the accomplishments of the Democratic-led Congress on behalf of equal pay and fairness. The Lilly Ledbetter Act-the first bill President Obama signed into law-restored the right of women and other workers to challenge unfair pay in court. Further, under the Affordable Care Act, soon women will no longer be charged higher premiums than men for the same coverage and no longer will being a woman be treated as a pre-existing condition.

On Equal Pay Day, we honor all of our nation's women, who through their labor – at home and in the workplace – have made our country strong. And we recommit to opening the doors of opportunity for the next generation of women.
Graph of pay gap by profession, a map of pay gap by state, and op/eds by Senators Gillibrand and Boxer follow the jump.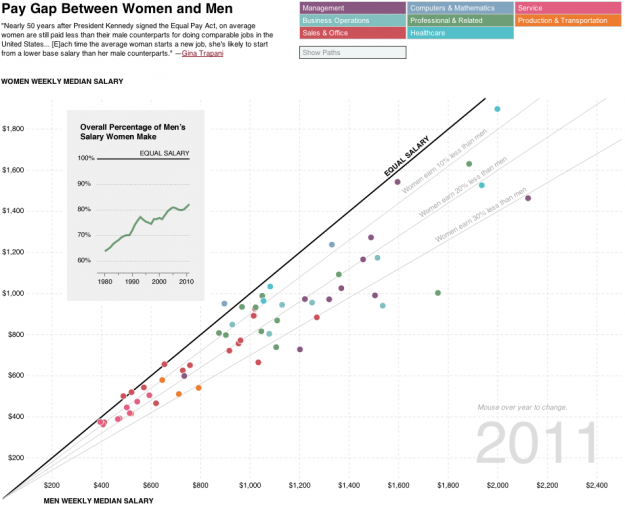 Senator Kirsten Gillibrand (D-NY) wrote an op-ed in The Huffington Post, discussing the importance of pay equity not just to women, but to the national economy as a whole. Gillibrand wrote:
…[T]he issue of pay equity is not merely one of fairness. Equal pay for equal work is vital for our economic growth and middle class financial security. With more and more women contributing to household incomes, the lack of equal pay for women hurts all middle class working families-men and children included. In New York alone, women head more than 1,000,000 households. It's estimated that because of the wage gap, New York families are deprived of $8600 a year. Nationwide, it's been estimated that if women were paid a dollar on the dollar for equal work, the U.S. GDP could grow up to 9 percent.
Gillibrand also discussed pay equity in regards to women's health. She wrote:
In addition to being an economic security issue, the failure to pay women a salary that's equal to men for equal work is also a women's health issue. The fact is that the salary women are paid directly impacts the type of health care services they are able to access for both themselves and their families. For example, if we closed the wage gap, a working woman in New York would be able to afford more than 2 years worth of additional family health insurance premiums. At a time when women's health services are increasingly vulnerable to budget cuts, it's more important than ever that women have financial security to maintain access to basic care for them and their families.
In Politico, Senator Barbara Boxer (D-CA) wrote an op-ed asserting that contrary to what Republicans may have you believe, the "war on women" is very real:
Suppose it's the championship basketball game and one player is committing foul after foul. Each time, he denies he's committed any offense.

Eventually, he fouls out. But even as he heads to the bench, he's protesting that he did nothing wrong.

That's what we're seeing today from Republicans who claim there is no 'war on women.' The Republican National Committee chairman likened it to a 'war on caterpillars.' The Senate Republican leader claims it's all manufactured – even as female members of his caucus warn about the growing backlash against the GOP from women.

House Republicans have introduced more than 30 bills that would restrict a woman's reproductive health care. Those same Republicans, who decry an all-too-powerful government, have no problem deciding what health care is right for our daughters, or sisters or mothers….

Here in Congress, 116 Republicans in the House and 19 Republicans in the Senate are co-sponsors of 'personhood' legislation, which would criminalize abortion with no exceptions for the mother's life or health. … It could even bar doctors from providing life-saving care to women with dangerous ectopic pregnancies.

It doesn't end there. Republicans in Congress blocked an international treaty – the Convention on the Elimination of All Forms of Discrimination Against Women – even though the only other nations refusing to ratify it are Iran, Sudan, South Sudan, Somalia, Palau and Tonga.

They also oppose increasing the minimum wage – when women make up about two-thirds of all workers now earning minimum wage or less. Not one Republican is a cosponsor of the Equal Rights Amendment.

Republicans voted against the Violence Against Women Act, which helps protect women from domestic violence, when the bill was in the Senate Judiciary Committee. They voted to repeal the health care law – including the part that says no more gender discrimination in the pricing of health insurance policies and the part that offers free preventive services like mammograms, STD screening, well-woman visits and birth control.

The facts are the facts. The Republicans have launched a war on women. Despite all the denials, women get it – and so do the men who care about them.
In addition to the fight for pay equality, Democrats have pushed for the reauthorization of the Violence Against Women Act (VAWA). Led by Vice President Joe Biden – who originally wrote and sponsored the bill as a Senator from Delaware in 1994 – a group of lawmakers and private citizens spoke today about the importance of passing the bill with bipartisan support. Politico's Carrie Budoff Brown wrote:
'The idea we're still fighting about this in Congress, that this is even a debatable issue, is truly sad,' Biden said during remarks at the Eisenhower Office Building. 'It's not a reflection on the law. It is a reflection on our inability in this town to deal with something that by now should just be over in terms of debate about it.'

'No one should question whether this is needed,' Biden said at the end of his remarks. 'It would have been bad if the law had never been passed. But imagine now, the message it sends if it is not reauthorized. Just ask what message it would send to every one of our daughters, every woman imprisoned in their home.'
Several prominent Jewish organizations have also spoken out in favor of VAWA's reauthorization. The Jewish Council for Public Affairs, National Council of Jewish Women, the Religious Action Center of Reform Judaism, and Hadassah have all urged their supporters to contact their local Congressional delegations and urge that they vote to pass the reauthorization of VAWA immediately. This is too important to wait.
Click here to read Senator Gillibrand's entire op-ed.
Click here to read Senator Boxer's entire op-ed.
Click here to read about how President Barack Obama's actions have reflected Jewish values, including his accomplishments on women's rights.