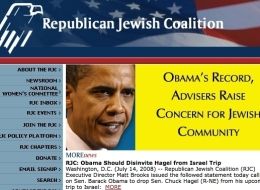 The Republican Jewish Council just sent a press release to the Philadelphia Jewish Voice as part of their ad campaign claiming President Obama has failed to provide sufficient security assistance to Israel.
RJC Executive Director Matt Brooks said, "Pres. Obama proposes slashing funds for military aid… The video ad asks people to call the White House and tell Pres. Obama not to slash funding for Israel's missile defense.
We wrote back to the RJC asking for the numbers documenting this "proposed fund slashing".
They have not gotten back to us, and I doubt they will, since the facts paint quite a different picture: Obama's budget is more than what Israel was given last year, and in fact represents more foreign aid than the US ever provided in a year to any country.
Here are the facts:
This claim is baseless. In reality, President Obama has provided an unprecedented level of security assistance to Israel. Here are just a few ways the President has stood squarely with Israel and assured the U.S.'s support for its defense:

The GOP has deliberately used one budget line item — involving less than 0.2% of our $3.1 billion-dollar security assistance package — to mislead Americans about the President's commitment to Israel. But as Israel Defense Minister Ehud Barak has said himself, "I can hardly remember a better period of support, American support and backing and cooperation and similar strategic understanding of events around us than what we have right now."
Responding to the criticism of Obama, David Harris, president of the National Jewish Democratic Council, said:
We are truly through the looking glass here; only those with the most partisan … agenda would view the largest military assistance package for any country in history at a difficult budgetary time as anything but a powerful way of supporting our closest ally, Israel.
As Ira Forman says:
It's no surprise that this kind of attack is cropping up yet again. For the Republicans running for president and the groups that support them, this is about politics, not diplomacy. It's never been about the truth behind our relationship with Israel, or Israel's national security.
Associated Press Fact Check denouncing the RJC follows the jump.