A Powerful Companion for Your Spiritual Journey
Dr. Joseph Rosenstein, the series creator of Siddur Eit Ratzon , offers authentic, refreshing and accessible approaches to fashioning a healthy, meaningful Jewish prayer life. This isn't a denominational publication — whatever your degree of orientation to Judaism, his approach will delight, inform and awaken. I'm giving birth to this review after nine months of praying the new Siddur Eit Ratzon collection, because I want you to know about this body of work in time to obtain copies to partner your high holiday experience.
More after the jump.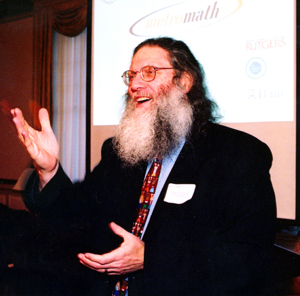 Dr. Rosenstein is a mathematics professor at Rutgers University focused on applications for K-12. Hence his remarkably articulate, conceptual ability to serve as a field guide to Jewish prayer as a spiritual journey. In his words:
You may walk along a particular path many times without being aware of its features. However a few words from a guide may enable you to see its depth and beauty. As it is with the natural world, so it is with prayer: you may have recited the prayers many times without seeing the spiritual motivation of their authors or how the prayers fit together to create an organic whole.
Dr. Rosenstein particularly reveals the helpful, holy, life-affirming experiences hidden behind the off-putting English word god and Judaism's abundance of Hebrew blessings. He offers gender neutral G-d language, and there are many theologies in the volume, creating space for all of us on the page and in the room. He doesn't shirk from asking the hard questions, offering diverse answers, for example:
"So if all these blessings are provided to us all the time, with no strings attached, and if God won't give us what we ask, then what purpose does prayer serve?

The answer is simple. We have to be receptive to these blessings…When we ask God for strength, we feel strengthened. When we seek healing, we are better able to draw on our own God-given recuperative powers. When we seek guidance, when we try to discern God's will for us, we find our way to an appropriate path…"
Then Dr. Rosenstein asks, and here we're still only on page 1 of the user's guide: "Is this all truth, or is it all metaphor? The answer is simply "yes."
In many ways the text helps us to release issues with the literal meaning of the text, while inviting us to resonate with Jewish prayer through "slow, focused, intentional, and relaxed encounters with individual words, phrases and images." This is how we are helped to change virtually molecularly, our perspective and way of feeling alive changes through this approach to prayer. Siddur Eit Ratzon shows how to get there in clear, contemporary non-coercive ways.
The truth is that prayer is a practice, meaning taking time with the approaches to prayer offered in Siddur Eit Ratzon, months such as I have, yields the fullness of spiritual juiciness, healing and meaning for living. Too many Jews find themselves glossing over the prayers, with eyes glazed at archaic forms, barely tasting what is possible. Dr. Rosenstein warms us up, so that the prayers can melt into our souls like butter on a warm slice of challah. We know and grow as people, the value of it all begins to come clear. He positions us for spiritual growth. A somewhat different and complementary approach is that of Rabbi Dr. Zalman Schachter-Shalomi and Joel Segal in their recent work Davening: A Guide to Meaningful Jewish Prayer
, as well as that of Rabbi Shefa Gold, The Magic of Hebrew Chant: Healing the Spirit, Transforming the Mind, Deepening Love
.
The Siddur Eit Ratzon series' brilliant four column format is adopted from adopted with permission from Siddur Chaveirim Kol Yisraeil
(across facing pages). From left to right you receive:
Transliteration + Hebrew Text + Interpretive Translation + Commentary.
These volumes sparkle with love and awe of the divine within our lived experience. Dr. Rosenstein views prayer as a spiritual path. Jewish tradition advocates love and awe as the two wings the soul needs to fly, to survive and thrive on life's challenging journey. He helps us enter into prayer as soul-touching poetry and empowers us to relate to the idea of God through metaphor. For example, when considering the Amidah, he teaches us to "position God, as it were" for we are setting the stage for prayerful connection. "How do we envision God?" Recognizing that we are not the ultimate source of life, that within the Mystery of it all, the sages have selected images, God as metaphor to facilitate our well-being through prayer, Rosenstein translates and guides through the power of metaphor. For example, on page 7 of the Siddur Eit Ratzon paperback version of the daily siddur:
My soul praises You, Adonai.
Vast beyond imagination
You are robed in majesty and glory.
You clothe Yourself in beams of light,
You drape Yourself with the heavens. (Ps. 104:1-2)
…
How precious is Your Loving kindness, O God:
You shelter us all beneath the spread of Your wings,
You feed us all from the abundance of Your house,
You water us all from the overflow of Your springs.

For with You is the source of life,
In Your light we see light. (Ps. 36:8-10)
Six stages are identified within the traditional order of prayer that, when understood and practiced, matter most, and then he offers visualizations for them that are spread through the text. I recommend studying and engaging in these on as a regular practice — not only by yourself, also with your family, students, and in community. The texture of praying together will change and the prayers themselves will come more fully to life.
Substantial research shows the efficacy upon human health of the imagery elements within prayer. Research such as that by Jeanne Ackterberg, z"l substantiates Dr. Rosenstein's inclusions of visualizations such as this one in relation to the verse above: In Your Light we see light, found on page 9 of the daily siddur's hardback version with instructions that "This guided meditation may be read aloud slowly by a leader, with 3- to 5-second pauses at the ellipses…"
Close your eyes…
Take a deep breath … and another …
Breathing in … and breathing out … [repeat]

Picture the sun…
and imagine yourself basking in its light …
taking in its brightness and its warmth …
feeling comfort and pleasure …
Breathing in … and breathing out … [repeat]

Imagine now that the source of that light …
is the source of all light …
that you are now basking in the radiance …
of the source of all life …

Imagine that you are surrounded
by God's light …by God's presence …
by God's love … by God's blessings …
Breathing in … and breathing out … [repeat]

Picture the vastness of the universe …
and imagine it filled with god's light …
light that eclipses all darkness …
light that drapes the heavens …
light that surrounds your soul …

Ki im'cha m'kor chay-yim…
For with You is the source of life …
b'or'cha nir-eh or…
in Your light we see light…
Breathing in … and breathing out … [repeat]

When we turn toward Your light …
when we move into Your light …
our darkness is dispelled …
and we experience Your light …

Take another deep breath …
and bask in the spiritual light…
Take another deep breath …
and bask in the spiritual light …
of God's presence …
In Your light we see light.
The author does leave out sections that relate to the sacrificial system. While most perhaps will not mind this at all, I find it unfortunate, because once understood, a world of powerful healing metaphors and awareness emerge from these traditions as well. He also categorically rejects the idea of a punishing God, or for that matter an absent God, declaring:
"The perspective of this Siddur is that God is always ready to receive and accept prayer — from any person, at any time — with no qualifications. When we call, God listens. Whenever we turn to God, God is there."
And the tradition of understand "living in God's house," as a reward for the righteous is also transformed here. "The perspective of this Siddur is that each of us is always welcome in God's house — as a visitor or as a permanent resident." Kol HaKovod — all honor for taking these courageous, contemporary, neo-Hassidic stances!
Siddur Eit Ratzon is available in several versions — paperback and hardbound, daily, Shabbat and Holidays, and for High Holidays. Print and binding quality is very high and clear. Dr. Rosenstein a founder of the National Havurah Committee and its annual institute, where serious inquiry and exploration into Jewish practice is a respected norm, has undertaken a great deal of research to answer his own questions about the language, sequence, and purpose of traditional Jewish prayer. This vast body of work is a tremendous accomplishment and gift that will endure long into the Jewish future.