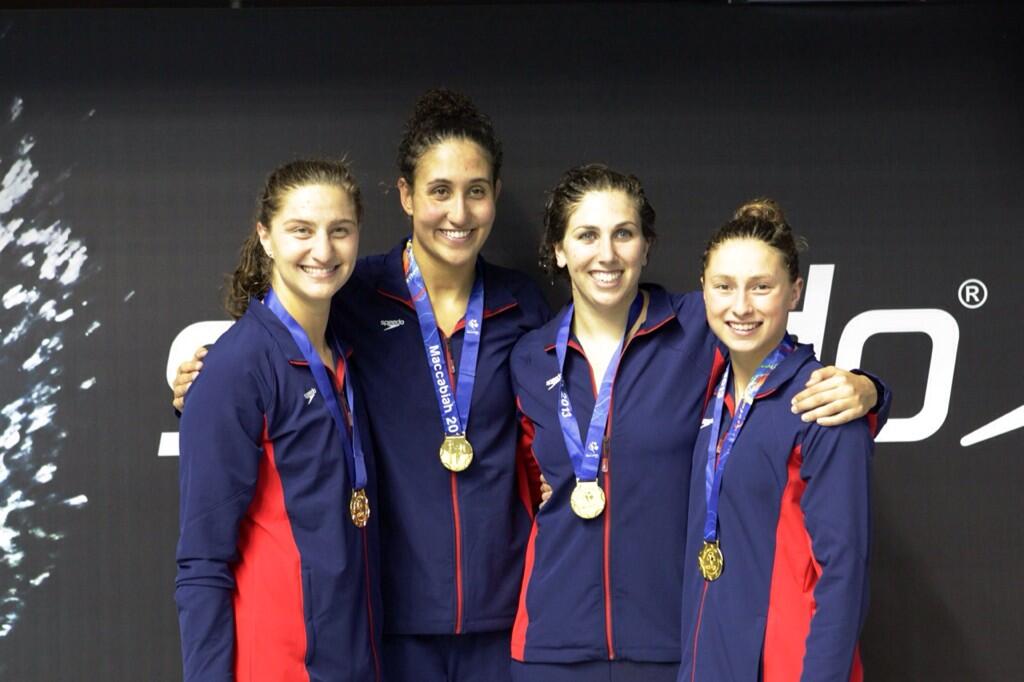 Marlee Ehrlich, Andi Murez, Jacqui Levere and Leah Goldman (left to right) after the 4×200 freestyle relay competition
— by Amir Shoam
The U.S. swim team for the Maccabiah won 67 medals in the open and junior pool categories during the last week.
"The U.S. team was a closely bonded team with great team spirit," said open team head coach Barry Roffer. "I would say we did an outstanding job at the competition."
Olympic champion Garrett Weber-Gale, who served as the open team's co-captain alongside Rebecca Lewinson, won the 50 and 100 meter freestyle categories, and broke the tournament's record for 50 meter with 22.12 seconds. Andi Murez won the 50, 100 and 200 freestyle categories for women, setting records on all events. Eric Friedland won both 100 and 200 meter breast roles, including a 1:02.73 minutes record in 100 meter.
The U.S. women's swim team, which included Marlee Ehrlich of Cherry Hill, N.J., broke a Maccabiah record in the 4×200 meter freestyle relay with a time of 8:23:29. Ehrlich also won a silver medal in 400 meter freestyle, and a gold medal in 800 meter freestyle. Today, she also won a bronze medal in the 5-kilometer open water race.
More after the jump.
"My teammates and I were able to bond quickly, which helped lead to a highly successful meet for Team USA," she said. "Representing the U.S. was an extreme honor, and I know that I am going to cherish the memories I made on this trip."
The American junior girl swimmers won all individual races but one. Isabelle goldsmith and Morgan Smith were standouts in this division. Judd Howard was the standout in the junior boys' category.