"What happened to those people — to those children — is not only a violation of international law, it's also a danger to our security."
— by Amir Shoam
Last week, before the Russian suggestion to disarm Bashar al-Assad's forces of chemical weapons, The Shalom Center's Rabbi Arthur Waskow wrote an article titled Drop Gas Masks, Not Bombs, opposing military action in Syria.
Waskow suggested that we "use the power of the U.S. in nonviolent, non-military, nonlethal ways" to stop the chemical war.
These surrogates for military action are each deeply flawed. Indeed, if Rabbi Waskow felt he had a good response, he would have probably given that response alone instead of a menu of responses each as ineffective as the next.
Waskow's proposals and my comments follow the jump.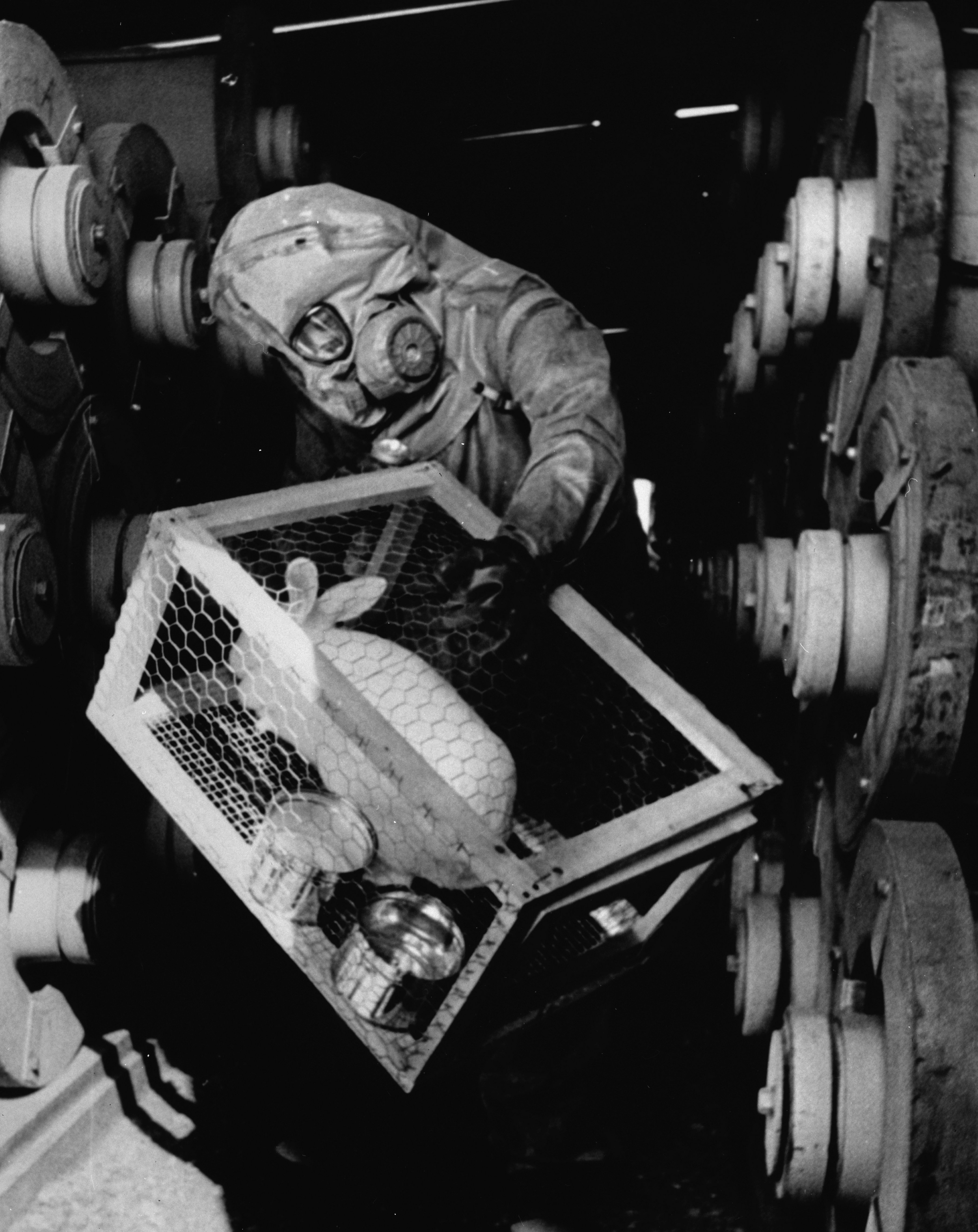 Waskow recommends distributing gas masks, but this is what you actually need to wear in order to fully protect yourself against sarin.
Waskow's title suggestion "Drop Gas Masks, Not Bombs" (although the word "drop" was a metaphor) would not work, since gas masks do not offer complete protection against sarin.
Look what equipment the Center for Disease Control (CDC) recommends to use in a Level A sarin exposure:
A NIOSH-certified CBRN full-face-piece SCBA operated in a pressure-demand mode or a pressure-demand supplied air hose respirator with an auxiliary escape bottle.
A Totally-Encapsulating Chemical Protective (TECP) suit that provides protection against CBRN agents.
Chemical-resistant gloves (outer).
Chemical-resistant gloves (inner).
Chemical-resistant boots with a steel toe and shank.
Waskow recognizes that the suggestion in his title might not actually work, so he gives this alternative:
If gas masks would not meet the need, drop antidotes to the nerve gas sarin.
According to the CDC, sarin "is generally odorless and tasteless. Exposure to sarin can cause death in minutes. A fraction of an ounce (1 to 10 mL) of sarin on the skin can be fatal."
Antidotes to sarin are only approved by the FDA for use by trained members of the U.S. Military, and would be useless or even dangerous in the hands of untrained Syrian citizens.
Waskow then makes this suggestion:
Test out what would happen if the U.S. invited physicians to be parachuted into Syria.
This is what would happen: The U.S. would ignore the first thing taught in a first aid course — do not risk lives in order to save lives.
If someone is injured on a busy road after a car accident, you should not go there.
If someone might be trapped inside a burning building, you should not go there.
If they offer you to be parachuted unarmed into a chemical war zone, you should not go there!
Waskow makes another suggestion, that also does not sound practical:
Drop leaflets and broadcast radio and social-media messages denouncing the use of chemical weaponry and offering amnesty and monetary rewards to anyone in the military who comes forward with information on their use.
If people in Assad's army resisted his ways, would they still serve in his army, and not in one of the other armies in the country?
The following suggestion explains itself:
Bollix the Syrian military's computer system just as the U.S. bollixed the Iranian nuclear-research system.
The U.S. is aware of that possibility — it just would not help.
Sarin is a binary compound, created naturally by the mixture of two gases stored separately in the shell. It does not need sophisticated electronics, and would be deployed in the field in the place of regular munitions, and not networked with a computer system, which made the Iranian centrifuges vulnerable to this kind of attack.
But the most flawed is Waskow's final suggestion:
In Iran there is fierce opposition to chem-war because Saddam used it in Iraq's war against Iran, killing tens of thousands…. Ask the government of Iran to intervene with its ally Syria to demand a total end to any use of chem-war, and offer Iran relaxation of U.S. sanctions against it if it does so.
Again, do not risk lives in order to save lives. Even assuming that Iran will accept this offer, a nuclear weapon in Iran's hands is a threat to each and every person in the world.
Ambassador Samantha Power explained the situation last week:
It is only after the United States pursued these non-military options without achieving the desired result of deterring chemical weapons use, that the President concluded that a limited military strike is the only way to prevent Assad from employing chemical weapons as if they are a conventional weapon of war.
Indeed, after two years of diplomacy and sanctions, it is only the threat of military action which is finally getting the attention of Syria, and maybe will lead to a peaceful solution.