Last week, Montgomery County's Register of Wills Bruce Hanes announced that he would start issuing marriage licenses to same-sex couples.
In today's Philadelphia Daily News, State Senate Daylin Leach defends Hanes' action:
These licenses would seem to be issued in contradiction to the Pennsylvania statute that limits marriage to one man and one woman. Mr. Hanes says that he believes that law is unconstitutional and therefore not enforceable.

Some have attacked Mr. Hanes for essentially going rogue. They say that he does not have the authority to pick and choose which laws he wants to enforce and which ones he does not. They also point out that if a law is unconstitutional, it should be a judge who makes that determination, not a county row officer. While these are reasonable points to make, they miss the true issues at stake. A more comprehensive review of relevant legal issues reveals that the actions taken by Mr. Hanes were, in fact, correct.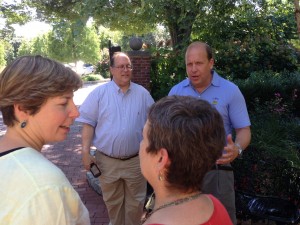 In fact, Leach officiated over a Montgomery County same-sex marriage on Monday and PoliticsPA wrote a piece about it entitled Leach Loves Gays So Much He Marries Them:
"I am thrilled to have had the opportunity to officiate the marriage of a wonderful, loving couple this afternoon in Montgomery County," Leach said. "Today's ceremony proves that little by little, we are making strides toward full equality here in Pennsylvania. Each court ruling and each supportive decision made by elected officials puts another crack in the armor of discrimination. Today's ceremony shows that love can indeed conquer all."

Leach has long been a supporter of same-sex marriage and LGBT rights. He introduced the first bill in the state Senate to legalize same-sex marriage in 2010.